Mumford and Sons Boston, MA Show
The prevailing question prior to the opening date of Mumford & Sons arena tour is whether or not this quartet with the unique sound which one might expect to discover at a small pub in Ireland could translate into 20,000+ spectator venues intended for major sporting events and more "established" bands.
This question was definitively answered with Marcus Mumford's first thump of the kick drum on the opening song
Babel--
the title track from the band's sophomore album--and reinforced throughout the band's ninety minute set.
They seamlessly transitioned through crowd favorites like
I Will Wait, Little Lion Man, Lover of the Light and Roll Away Your Stone
, pausing only briefly to allow Marcus Mumford to call opening-act Ben Howard a "dickhead" (he was kidding. He quickly followed this by saying "He's like the nicest guy on the planet which kind of also pisses you off. I want to be him. He's Elvis in the UK.") and to poke fun at "fans" in a box who were apparently watching a "sporting event" in one of the Garden's boxes. "Thanks for coming", jabbed Ben Lovett (keyboards).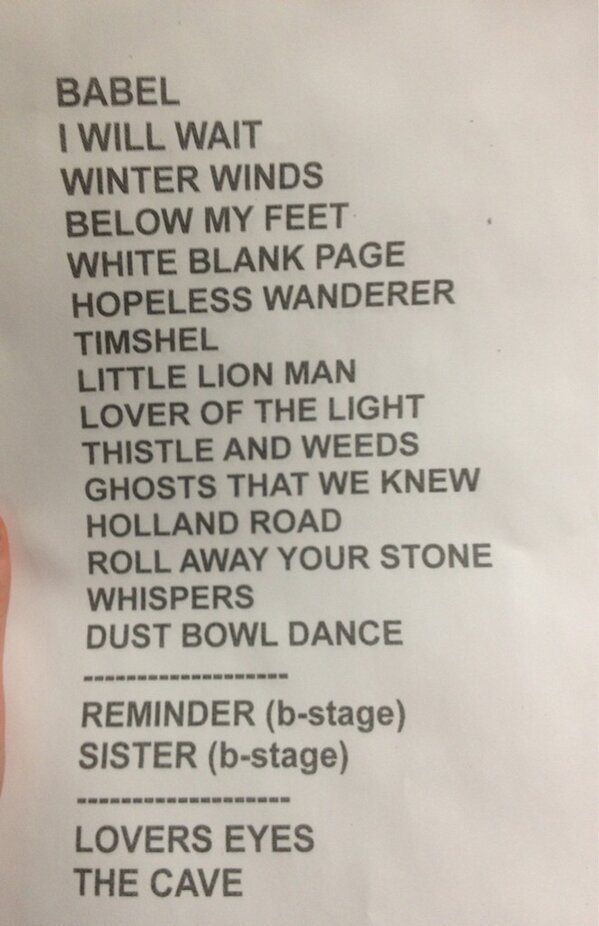 Although joined by string and horn sections for several songs (
Winter Winds
was
one of Sarah's favorite tunes from the evening), perhaps most impressive was their ability to sustain the energy and passion throughout the entire set. The "rhythm section" is something to behold. In a majority of songs the band's frontman plays guitar and sings lead vocals while simultaneously playing the kick drum with his right foot and tambourine with his left. For other songs, he plays a full drum kit while also singing.
If Marcus Mumford played baseball he would be considered a five-tool player.
My personal highlights of the evening were
Babel
and
Whispers in the Dark
(though I could have used more banjo on
Whispers)
. The only small disappointments were the length of
Ben Howard's
set (four songs) and the surprising choice of
The Felice Brothers
as the opening act. The Bros were not bad, but it was at times painfully obvious they were not comfortable playing in front of such a large crowd. It seems Mumford "did them a solid" but adding them to the bill.
The show ended with
Lovers Eyes
and
The Cave
(their first hit).
On December 31, 1999 I saw Metallica in concert (I was 15...). I thought the world was going to end with me singing
Master of Puppets (
remember that whole Y2k thing?)
.
With pyrotechnics, and threat of apocalypse it was a memorable concert going experience. Oh, and Ted Nugent (the band's opening act) entered the stage on a buffalo, and shot a flaming arrow through his guitar to close his set.
With respect to Metallica, buffaloes and flaming arrows, with only folks instruments and a few lights, Mumford & Sons provided the singular most memorable concert I've ever attended.
Hats off to Marcus Mumford, Winston Marshall, Ben Lovett and Ted Dwane.
The "B" stage